Obituary for Palmer C. Simerlein
Palmer Charles Simerlein passed peacefully to the sweet sound of a Waylon Jennings ballad on February 12, at the age of 79. Born to the late John C. Simerlein and Lillian (nee Ermenc) Simerlein on June 12, 1939, he was a proud resident of Butler, Wisconsin, USA and graduated from Wauwatosa East HS in 1957. He was well known in Butler as a classic rebel and fun-loving rabble-rouser. As a young man he had the pleasure of taking a trip down old Route 66- to the land of fruits and nuts--and owned a 1959, two-tone Corvette convertible.

He also worked on the railroad, briefly following the footsteps of his father and uncles, and served a term in the Wisconsin National Guard. At the advice of his mother, he settled into career in the U.S. Postal Service, starting as a letter carrier in Butler in 1961. In his 32 year career in the USPS in Wisconsin, Palmer served Butler, Milwaukee, several rural towns (as a temporary supervisor) and Plymouth, where he was the friendly public face of the downtown post office as Assistant Postmaster (1976 to 1992). Perhaps due to his love of beer, Palmer had part time gigs in the 1960s at the Butler Beer Depot and the Butler Hotel, owned by his grandmother, Anna Ermenc. Palmer was always a hard worker, took pride in providing for his family, and instilled his work ethic and strong provider instincts in his children.

In the 1970s and 1980s, Palmer continued to work hard and play hard, providing well for his family. In his Milwaukee years, he owned his first home and built it into a playground for kids and adults alike. Palmer and Joan's house was a primary neighborhood party destination. His children enjoyed the good suburban life along the Menomonee River in northwest Milwaukee. Palmer's Tarzan-like yell to announce supper-time, "Chow Time, Dooty Yaa Baaaa," was legendary and could be heard for miles. It was so powerful other neighborhood kids would run home to their houses for supper. His kids did not dare be late for supper.

Palmer and Joan moved the family to Plymouth in 1976 and took on hobby farming, building a respectable beef cattle business that met with modest success in the late 1970s. In the 1980s, with his second wife Jackie, he restored the farm house on Highway S near Plymouth and helped Jackie run a modest antique store on the property. He also financially supported Jackie's family restaurant in Greenbush.

In his long and colorful retirement, Palmer enjoyed (in no particular order) the outdoors, his man-shack in the Kettles, his dogs (Bear, Jim, Helga, many others), cold beer (preferably Miller Lite), his family and friends, Outlaw Country music, the local bars, chocolate, bird-watching, ketchup, guns and the Packers. His signature meal was the notorious "Simerlein Stew," a slow-cooked concoction made with whatever was available, always waiting for him at home after long days of trail walking and bar-hopping. He was the honorary Mayor of Parnell (Tavern), holding down the distinguished chair by the window for several years. Palmer served in the local Kiwanis Club for several years.

Palmer had a big personality that would light up the room, and he was usually the life of the party. He said a lot with his eyes and could get away with much with a wink and a smile. He was a champion eater. He was quick of wit, a good debater of all things great and small. He was the inventor of the "Simerlein-ism," a statement with a grain of truth and a large helping of BS, delivered with conviction and vigor, designed to win an argument or make a point. His most notorious alter ego was "The Reverend Deacon Doctor Doug of the Church of What's Happening Now."

Palmer is survived by: his brother, John C. Simerlein (Renee) of Germantown, WI; two ex-wives, Joan Simerlein (nee Ney) of Plymouth and Jacquelyn Simerlein (nee Wehse) of Bedford, Indiana and four sons, Steven (Nashville, TN), Scott (Maple Grove, MN), Michael (Williamsburg, VA) and Mark (Anne, Knoxville, TN). Palmer's legacy also includes eight grandchildren (Amber, Alison, Whitney, Trevor, Madison, Lydia, McKenna & Bennett) and five great grandchildren (Lilyana, Jude, Hayden, Owen & Nora).

A private family remembrance will be held at a later date and will involve beer, the outdoors, hearty BS and good cheer.

In lieu of gifts or flowers, please donate to one of Palmer's favorite causes: Ducks Unlimited, the Washington County Humane Society or the NRA—or leave some extra cash at Parnell Tower as a remembrance, as it was one of his favorite places.

Palmer was a good man, we will miss him. To all who knew and loved him, Keep Truckin'!
Suchon Funeral Home and Cremation Services of Plymouth is serving the family. For online condolences, please visit www.suchonfh.com.

Heartfelt thanks and appreciation go out to all of his caregivers, who made his last eight years pleasant, lively and comfortable. Special thanks are extended to the staff and residents of Golden Harbor in Sheboygan, Lori Murray, Mary Kate DeJardin, Heather Allen and countless others who saw to Palmer's needs and brightened his life in his later years.
To send flowers or a remembrance gift to the family of Palmer C. Simerlein, please visit our Tribute Store.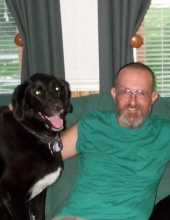 Thank you for sharing your
memory of Palmer
Provide comfort by sending fresh
flowers from our local florist.
No thanks, please don't show me this again.