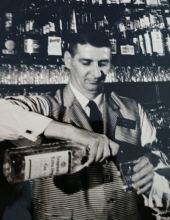 Obituary for Conrad F. Bilgrien Sr.
Conrad ("Connie") F. Bilgrien Sr., age 83, of Plymouth, WI, passed away peacefully in his sleep on October 14th, 2017. He was born September 16th, 1934 to the late Earl and Marie (Seubert) Bilgrien, in Marshfield, WI. Connie grew up in Marshfield and attended St. John's Catholic School. He served in the US Army in Pontiac Michigan from which he was honorably discharged on November 28th, 1958. On June 26, 1956 he married Arlene Buchli and was married for 44 years.

Connie spent much of his life as a bartender and business owner. He was the lead bartender at Frenchy's Restaurant in Milwaukee which was known for their exotic food and clientele. It was here he honed his craft and learned how to cater to the demands of the many and varied customers. He eventually struck out on his own and bought the Five Corners Tavern in Lima township, building the business and running it with his family for over 30 years.

Connie prided himself on his skills as an entrepreneur, confidante, and mixologist who had an innate ability and willingness to engage with anyone who walked through the door. He was an avid follower of the news and could always be counted on to share the latest on local events, as well as weigh in on national politics and international issues. He loved to share his opinions but was a good listener as well. Connie could be provocative and contrarian and loved a good debate. He also had a keen sense of humor and a big heart, and was always willing to do what he could to help others.

Connie will be missed by his children Conrad Jr. (Kay Uttech), Carl (Deanna Saint Souver) and Craig, as well as eight grandchildren: Katie (Tom) Erickson, Cody (Sara) Bilgrien, Noah Bilgrien, Eric Bilgrien, Jenna Bilgrien, Andrea Bilgrien, Charles Bilgrien and Christian Bilgrien. He is further survived by his siblings Louise Borens, Judy (Sister Marie Vianney), and Paula Mostrom. He was preceded in death by his parents and siblings Earl Jr., Rosemarie von Haden, Joseph, Guy Paul, and Linda Lanker.

Following in accordance with his wishes cremation has taken place. In lieu of flowers, Conrad requests donations to the Clement J. Zablocki VA Hospital in Milwaukee, you can donate at www.milwaukee.va.gov/giving/index.asp and click on E-Donate.

The Suchon Funeral Home and Cremation Services of Plymouth is serving the family. For online condolences, please visit www.suchonfh.com. The family is planning a celebration of his life in the Spring of 2018. For information, please contact conrad.bilgrien@gmail.com.